Main content starts here, tab to start navigating
About Us
Our Coffee Story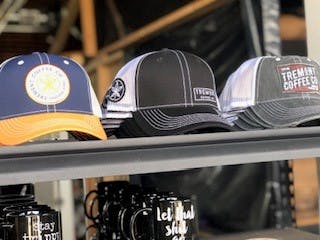 Tremont was started from very humble beginnings and big dreams.
Back in 2016 we said its now or never. Either we finally do something about the hopes and dreams we had of starting a business or we just finally give up those dreams and move on.
The timing wasn't perfect
we had a shoe string budget and
we had never ran a successful business before.
We were absolutely terrified.
However, we had each other.

Founders Mark and Michelle Kemp are proud lifelong residents of Stark County and they believed they could grow a successful family business in there home state of OHIO that was about people over corporate.
Through endless hours of hard work, sacrifice and the embrace of the local community, Tremont Coffee has gone on to build a thriving million dollar business and four locations by the end of 2021

We've never forgotten those humble beginnings and with you're help we make it a priority to support the very communities and businesses where we live, work and play as well as the farmers growing our coffee crops all over the world.
We want to share what we believe has become a unique opportunity. We will soon be exploring franchise opportunities for owner operators to build there own dreams of business ownership with a Tremont Coffee Co of there own.
Mark and Michelle Kemp